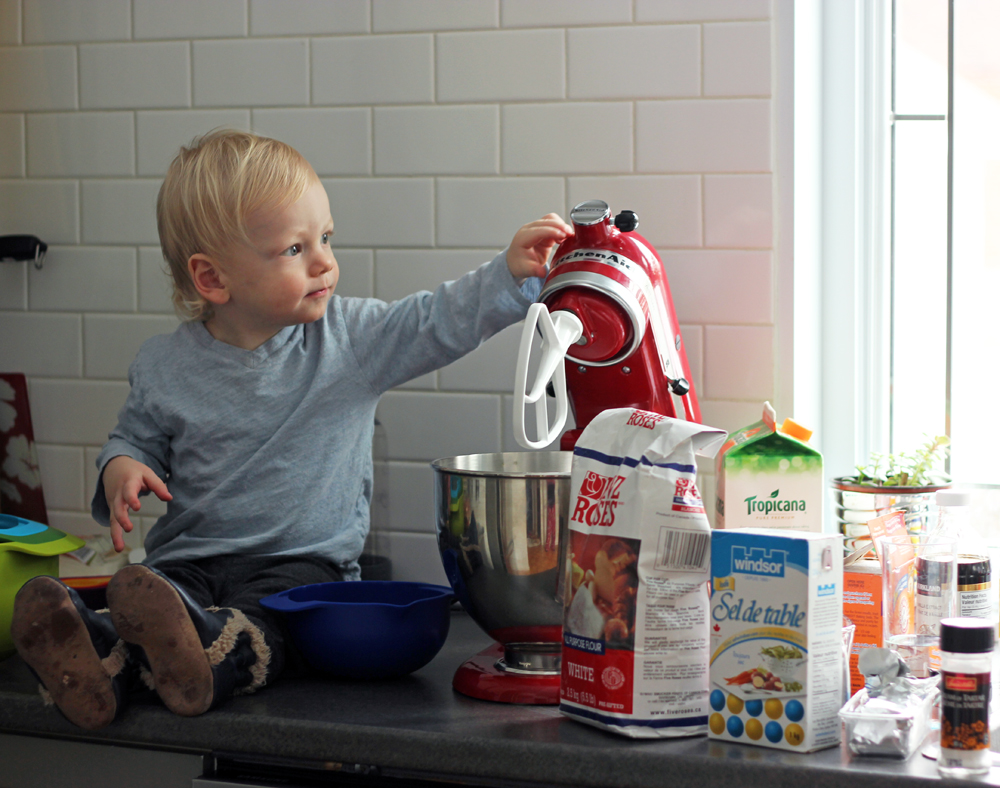 I often get asked how I manage my time between working full time and parenting full time. I keep intending to write a blog post with all the things I've learnt about multitasking and managing my days to get both things done (and done well) but it feels like a daunting task and one that I haven't quite been able to tackle yet. My biggest tip is to do everything you can with your child, freeing up precious nap time for actual work. When Rowan is napping, I have to work. I can't spend nap times showering, doing laundry, cleaning or cooking. All of those basic household jobs have to get done while Rowan is awake so I can really get work done while he's asleep.
And I know, even the simplest jobs can feel twice as hard with the help of a baby or toddler, but such is life. There are certainly phases where it almost doesn't seem worth it to attempt to fold laundry with a baby around, he could unfold faster than I could fold! But I think that kids really do love to help! And with enough exposure they tend to learn pretty quickly. Rowan certainly doesn't fold laundry, but he is getting remarkably good at putting laundry in a basket without unfolding it too much, which counts for something right!?
Baking is something that I've been doing with Rowan forever. He's only 21 months old, but already he is a real pro. It's shocking how helpful he is with it actually, he keeps the mess relatively contained and basically just loves to poor things and to hold a spatula. A few tips for baking wit a toddler:
• It's no fun to simply measure out 1 cup of flour, dump it in the bowl and then have the game be over. Instead, we measure things in 1/2 cups or even 1/3 cups to stretch out the excitement! I do all the measuring and he does all the pouring.
• I get out all of the ingredients before I bring Rowan up onto the counter and I place them out of arms reach so bags of flour and sugar don't end up all over the floor. Also, this keeps me from having to leave his side while he's on the counter, which wouldn't be a good idea.
• Have a distraction ready for the end of the mixing phase. When we get to the point where things are about to go into the oven or I need to do a not-toddler-friendly step, I make sure to have something else ready for him to do so he's not devastated when I cut him out of the fun.
• Don't be a perfectionist! If he squishes a cookie or makes his dough balls too big, that's totally fine.
Jam Jams (my preferred name for thumbprint cookies) are one of my favourites. Rowan frequently wakes up in the morning and requests jam for breakfast, so I knew that he would love them too. I love all shortbreads, but shortbread with raspberry jam is even better! Here's my favourite Jam Jam recipe:
1 1/2 c. brown sugar
1 1/2 c. shortening*
1/2 c. milk
1 tsp. baking soda
1 tsp vanilla
1 egg
3 3/4 c. flour
2 tsp. cream of tartar
1/2 tsp. salt
~2/3 c. of your preferred jam (I favour raspberry)
Cream the shortening and sugar, add the egg, vanilla and then the milk. Add the dry ingredients. Form into 1.5" balls and then make a thumbprint in the center and fill generously with jam. Bake at 375°F for 12 minutes.
This recipe makes 60 decent sized cookies. They freeze very well, but they also taste great straight out of the freezer, so don't kid yourself that just because you put half your batch in the freezer that you won't eat them just as fast!
* The recipe I have calls for shortening. I'm sure that you could probably substitute butter if you wanted to. As far as my google search can tell, the main difference is in the water and fat content content of shortening vs. butter (shortening is all fat while butter can have about 15% water) and you'll have a crisper cookie (less cakey) as well as potentially a flatter cookie if you use butter.
Enjoy!