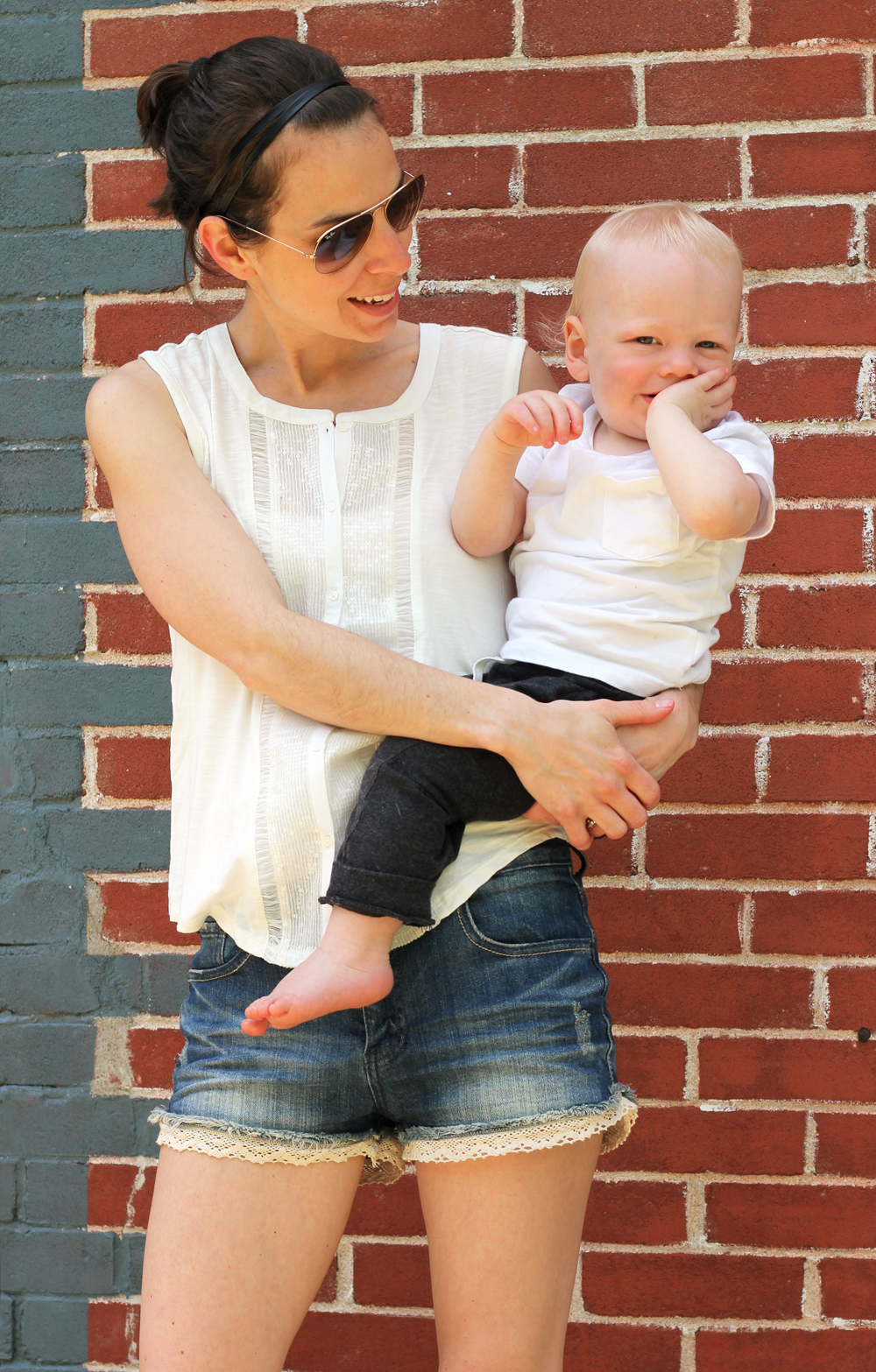 Basically, I wear shorts all summer long. No major news there. It's hot, I wear shorts, enough said. Well, the thing is those two pairs of shorts above have been worn beyond the point of decency. I remember buying them. It was about 5 years ago, there was a street sale in my old neighbourhood. This really chic boutique had stuff majorly discounted. Both pairs of distressed shorts were originally up around $100, crazy beans. I paid something like $15 or $20 each. I think I got a good deal. Fast forward 5 years and my kinda distressed shorts are torn so high up the thigh that you can sort of see my undies in the slit when I walk. Needless to say, I don't wear them anymore.
The thing is I would really like to continue wearing them! You have no idea how many times I've reached for those yellow shorts over the past few weeks. These shorts fit me like a glove and other than those torn hems, they're still good shorts! I've decided I'm going to mend them. The shorts pictured in the top shot of me and Rowan were purchased this season at target. I was drawn to them because of the pretty lace detail at the hems, couldn't I add a similar detail to my old short and extend their lives through a few more seasons? I have a few articles of clothing that have been lovingly mended, and I don't know wether it's that I loved them enough in the first place to bother mending them, or if it's the very fact that they are mended that I love them so much... but one way or the other any article of clothing that I have that has a touch of the hand-made in it is immediately extra special.
In other news, I was feeling good about myself for being 30 and still rockin' tiny shorts. But then I noticed that my new shorts are marketed as "high-waisted". I thought that they were just "regular-waisted"! I think that this officially makes me old and un-cool. Apparently I don't know where the kids are wearing their waist-lines these days. If these are high-waisted (still falling inches below my belly button) I don't want to know where low-rise hits.